Sometimes, the best music you'll find came out during the mid aughts, not last week. And although I love the new music that comes out these days, I would really not like to review the newest Doja Cat single. Please don't make me.
There are gonna be some great releases coming out this month from people like Kanye West, Rex Orange County, Jakey, and 2hollis. All artists I love and albums that I'll do full reviews on. But for now, let us look back at some really fascinating albums I missed, either because I didn't know the genre existed, I was 3 when the album came out, and even one where I really wish I had known existed, since they were making music right under my nose!
Carissa's Wierd
Songs About Leaving
Let's start with the one that I was 3 for when it came out. Unless I was like some really cool 3 year old hipster from Park Slope, there was no chance I was gonna find this one. I got this recommendation from an online antique shop owner named Chamonix and has a Spotify account linked where he and his wife release a monthly playlist of what they're listening to. I'll link it here; there's a bunch more good songs there.
Songs About Leaving is a moody and bare bones indie ensemble that sounds the way it feels when a weirdly hot girl undresses in front of you. It's a tepid and intimate experience of an album full of flaws and beauty. It also had a ton of guys in it, and a few girls. Seven members (4 guys, 3 girls; 2 of those guys would go on to form Band of Horses) in total make up the band, giving it a layered acoustic feel with a pronounced violin that acts like the spine of every song. Each song isn't scared to take its time and goes at its own pace, usually matching the same cadence of the thoughts in the song. A feverish song like "Ignorant Piece of Shit" will have a chorus of singers behind it and a punchier hook than the more lonely closer track "(March 19th 1983) It Was Probably Green". Vulnerability pervades the entire album from start to finish, a testament to the group's chemistry in spite of their eventual breakup in 2003.
It's really hard to find music like this today. It seems Alex G has a monopoly over the indie-folk market because he's able to package it so nicely for a younger audience. But it's interesting to imagine what his competition would be like, had bands like this stayed together. Folk and Americana music currently sits at a rough place right now, so it's nice to look back at better days.
Hole Dweller
Flies the Coop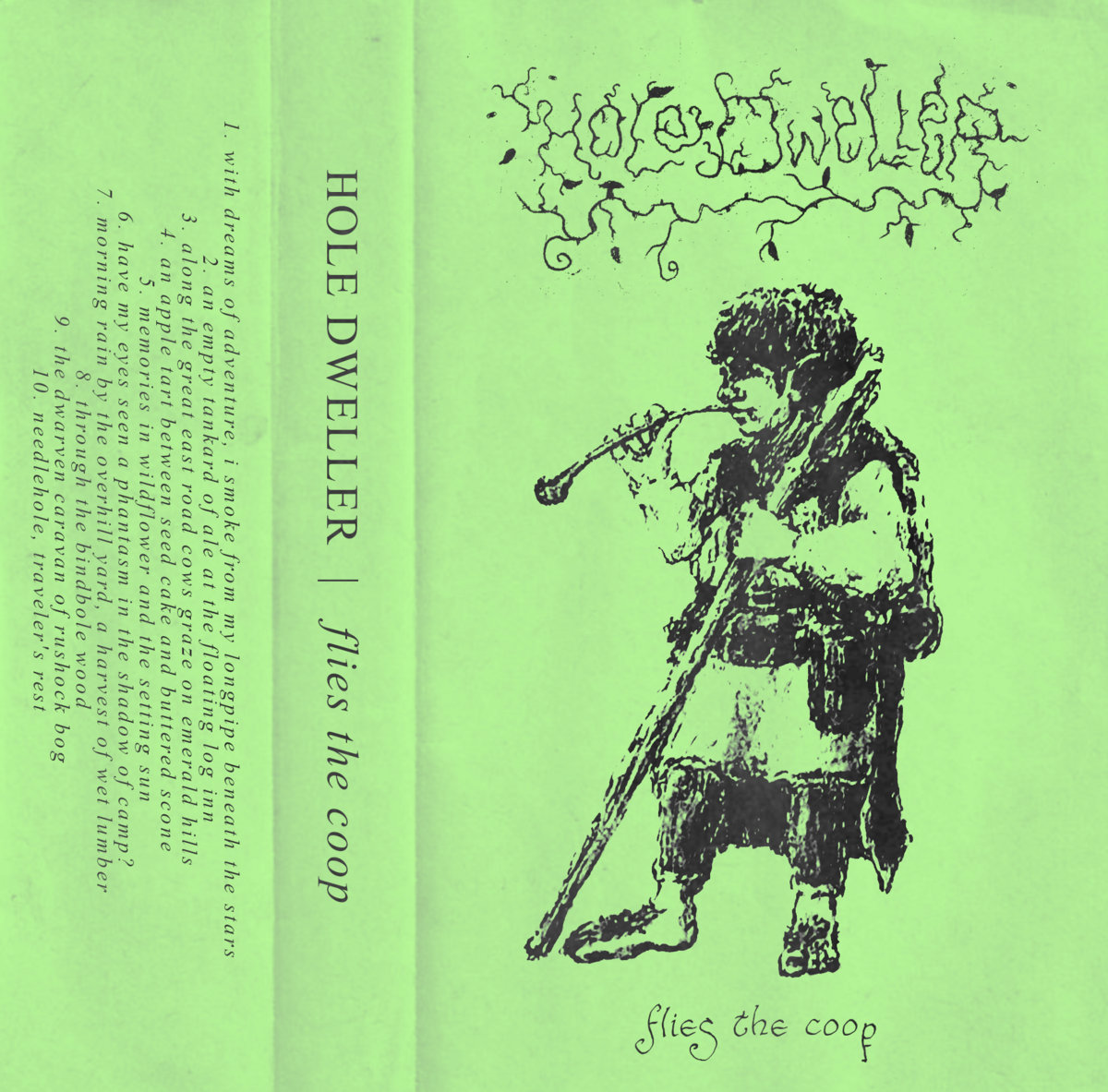 Hole Dweller was my first introduction into a new genre I never knew I needed until now — Dungeon Synth. It serves as more of an interactive experience than anything else, with song titles so accurate you don't even know how they match up with what a synthesizer is capable of. It really opens your eyes to the power music holds when a couple keys can put a crystal-clear image of "An Empty Tankard of Ale at the Floating Log Inn" in your head.
The album in question, Flies The Coop, was Hole Dweller's first album on Spotify but undoubtedly not his first attempt at making Dungeon Synth. It's a rich diegetic landscape seemingly created from the adventure storyline spelled out in the song titles. Just like you can only imagine so much from the text in a book, the music adds another layer of reality to song titles like "The Dwarven Caravan of Rushock Bog". Nothing is ever too overstated on this album, and I can only assume it's meant to be in the background of a multi million dollar movie or playing off a phone as you roll a 12-sided die. But it's better that way. It makes you feel like you're the one who's eating a mouth-watering apple tart and seed cake after a long day of traversing Bindbole Wood with your team.
I still don't know much about the surprisingly rich history of Dungeon Synth. But I get the feeling it's about a nostalgia for an idyllic time no one has ever lived in. This felt as real as something fake can feel. And that must mean something.
Twin Cities
Unreal Rains
This one actually came out last year! So not new music but close enough and honestly more people should know about Twin Cities anyway. They also live right up the road in Toronto! This isn't a Chamonix pick like the first review, Carissa's Wierd, but it honestly should be. The solemn and easy on the ears style that Chamonix pick out would feel right at home alongside Twin Cities. The duo of Jay Merrow and Christine Stoesser make up the ethereal dream pop outfit that stayed together after a successful 2016 release, Automatic Hand, but took their time before releasing their latest, Unreal City.
I can't call their sophomore album "fun", but I really want to. There's an undeniable bounce to the 80s inspired tracks that seems elusive and hard to trust with the way Stoesser sings. Almost like she's reliving a good time, never living it. On songs like "Body of Water" and the titular track "Unreal City", the energy, fake or not, is so electric you really don't care. Whether it's the thumping bass or guitar solos, the energy supersedes whatever emotions you may be feeling. On others though, like "The Garden", you get the weight of those current emotions, not just memories relived. Either way, diving into emotions or memories, Twin Cities pulls out a strong album from the fire, no weak links.
For such a strong showing with two albums and a popular sound, why are they only pulling in a little over a thousand listeners a month on Spotify? Some have noticed and their music has been featured on a number of TV shows, but who's gonna pick up this diamond in the rough? They seem like a Dead Oceans kinda band if you ask me. And with the right marketing and platform, they could get as big as they want.